Why choose eyebrow threading?
Eyebrow and facial hair threading is an ancient method of hair removal practiced throughout Western Asia, the Indian subcontinent, and the Far East. It is a unique technique that pulls hair out of its root with a simple twist of 100% cotton thread. In recent years, eyebrow and facial hair threading has become very popular throughout the United States and Europe as an alternative to waxing and tweezing because of the following great benefits:
Gentle: Threading does not peel off or irritate the top layer of skin like waxing or other techniques

Simple: Threading requires no tools other than a single piece of 100% cotton thread. Unlike other techniques, threading does not require hair to grow to a certain length in order to pulled out. We will teach you to pull even the finest hairs out of their root.

Safe: Because no chemicals are involved, there is no harm to sensitive skin. It is a highly recommended and excellent option for those who use Retin-A, Accutane, or similar products. Best of all there is no chance of painful or dangerous chemical reactions.

Our eyebrow threading classes will teach you the unique techniques needed to create astounding eyebrow shapes to frame any face.

Why learn from us?

We are confident that our incredible eyebrow threading classes are the best out there and will teach you everything you need to know to thread . Your eyebrow threading expert will take the time to help you learn the art of removing hair with a simple twist of thread.

Where do we teach?
We regularly offer eyebrow threading classes at two locations: Sunnyvale and Milpitas,CA
Questions? Contact us anytime by phone at 408-362-1234 or e-mail at Facialtown@gmail.com
Location:
Facial Town is located within minutes from Sunnyvale, Mountain View, Cupertino, Santa Clara, San Jose, Los Altos, Milpitas, Saratoga, Palo Alto, San Francisco Bay Area.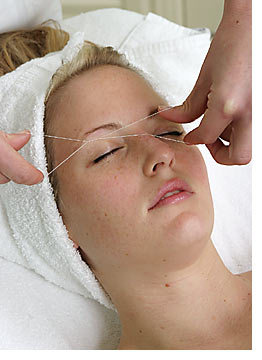 Intro

Sindi became proficient in threading, a traditional Indian form of hair removal, at an early age when she loved working on friends and family members. She has experience of 35 years. For the last 6 years she has owned and operated a busy skin care practice in Milpitas Downtown and Sunnyvale, California, where she sees many clients from all types of ethnic backgrounds for (this increasingly popular art form) threading services.
Threading is becoming very popular and many estheticians are asking to learn this ancient art. In response to this demand, Sindi started her teaching career in 2009 with private threading courses for select estheticians. Over the past couple of years the demand for Sindi's expertise mixed with her "hands-on is best" approach to teaching threading has created such a demand, a larger classroom format was the logical next step.
Today, Sindi is thrilled to be asked to share this precious technique and excited to be teaching the magical ancient art of threading.
Threading Classes Details

Location: 936 E EL Camino Real Sunnyvale, CA 94087
Timings: 12 PM to 4 PM

Monday to Thursday

Regular Fee for One on One Training : $450.00

Make of Group of Three -> Fee: $250.00 each
(Bring 10 friends & receive your course for FREE or get $50 cash or gift card from our salon for each friend)

REGISTER TODAY!

..........................................................................................................

What is included:

You will learn the basics of "Threading" that include the technique, practice and how to take care of your clients. The cost of the class is to be paid in full at the beginning of the course. No refunds.

1 hour per day * 7 day Course = 7 hours total teaching.
1 hour practice a day * 14 day = 14 days practice.
Total 14 days course